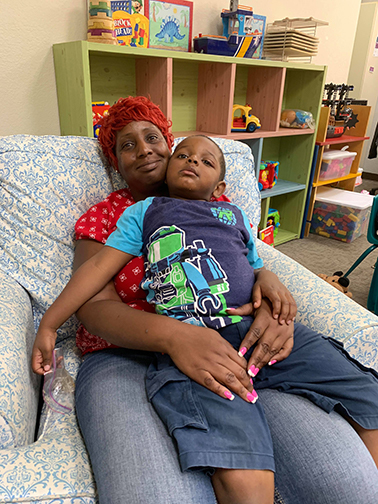 Every fall, the halls of St. Vincent de Paul's Family Resource Center get noisier and more crowded with the laughter (and sometimes tears!) of our friends in need, like Onaji- who's 4.
St. Vincent de Paul operates the shelter in partnership with Interfaith Contra Costa's Winter Nights program. During the evenings, Winter Nights coordinates night-time shelter for the homeless guests at a local church, synagogue or mosque. During the day, if guests of the program don't go to work or school, they come to St. Vincent de Paul's Family Resource Center in Pittsburg where a space is furnished with comfortable couches, toys, and books for the children, computer and internet access is available, hot meals via the Free Dining Room are available, and more.
Onaji and his mom Bertha are current neighbors in need that have been utilizing St. Vincent de Paul's Family Resource Center's Oasis Daytime Shelter for a couple of weeks now. The daytime shelter is for homeless families with young children, and allows them a safe place to spend the day, shower and change clothes, use a computer, read and play with their children.
Like many people who use SVdP's services, Bertha's journey is full of unexpected twists and turns. She lost her home in Alabama due to some bad choices in who she was spending time with. Bertha, then a student with a full-time job, had temporarily lost custody of her son but was fighting hard to regain custody. She needed to straighten out her life, pass drug tests and prove she was no longer making the bad choices she had made in the past. She was successful in turning her life around, and she was able to win custody of her young son, Onaji.
Eventually, after a brief period of living in Florida, she came to California to be near her sister. However, housing costs in the Bay Area are notoriously high, and she has been struggling to make ends meet. Bertha was referred to the Winter Nights shelter program through her sister and has been helped by the services the Oasis Daytime Shelter provides to homeless families. This allows Bertha and Onaji to remain safe, stay off the streets, keep warm during these colder months as well as keep her son fed and clothed.
Learn more about the services that Oasis Daytime Shelter at St. Vincent de Paul provides here. For more information on the Interfaith Council of Contra Costa County, please click here.