Everything that a conference needs to know to properly conduct their business is included on this page. The information is split up into the following categories: President Training, Treasurer Training, Spiritual Advisor Training, Invitation to serve, Impact Statements, Seattle Database, Bylaws and Misc. Sometimes the best way to learn is to attend another conference's monthly meeting. Here is information on them.
President Training
2022 Conference President Spiritual Advisor Training PowerPoint
Conference President Survival Kit
2021 Presidents/Vice Presidents Officer's Zoom Training
Conference President Training 5 20 16 Power Point
1-Conference President Training Power Point
Conference President Training '19 Power Point
2020 President Training Zoom video
SVdP President Training 2021 Word Document
Conference President Training Power Point
Treasurer Training
Treasurer's Training 11-28-22 PowerPoint
SVdP CCC Treasurers Officer's Zoom Training 2021
PASSOUT FOR TREASURER'S AT MEETING
Treasurer's example of bank recording pg2
Instructions on how to do report by Bill Hurley
Be sure to scroll down and review the training for the Seattle database.
Annual Report
Link to quarterly and annual form on National's website
National's Tutorial Videos on completing the annual report
Instructions for Special Works Annual Report
District Guidelines for quarterly and annual report
Webinar-QA-Annual-Reporting-10-21-2020
Annual Report Tutorial for Conferences
Explanation of In Kind Services
Spreadsheet to calculate mileage
Spreadsheet to calculate service hours
XYZ Conference sample report non Seattle
XYZ Conference sample report-Seattle database
SVdP USA members portal – This is where conferences enter their annual report and update their conference roster
Secretary Training
Secretary's Workshop 2022 PowerPoint
SVdP CCC Secretaries 2021 Officer's Zoom Training
Spiritual Advisor Training
Sr Paule's SA training Nov 2022
Sr Paule's SA training Notes Nov 2022
500-Little-Prayers-for-Vincentians 4 per pg
Spiritual Advisor training per Seattle
Training-Our-Spiritual-Advisors – Denver 2019
Invitation to serve
Recruiting and Retaining Members
ITS for New and Existing Conferences2017
Invitation to Serve 1-11-22 Zoom Training
Invitation to Serve 01-11-22 Power Point presentation
Invitation to Serve 12-18-21 Power Point presentation
St. Bonaventure Brochure – Front
St. Bonaventure Brochure – Back
Invitation to Serve for Recruitment
Invitation to Serve (for extending new conferences)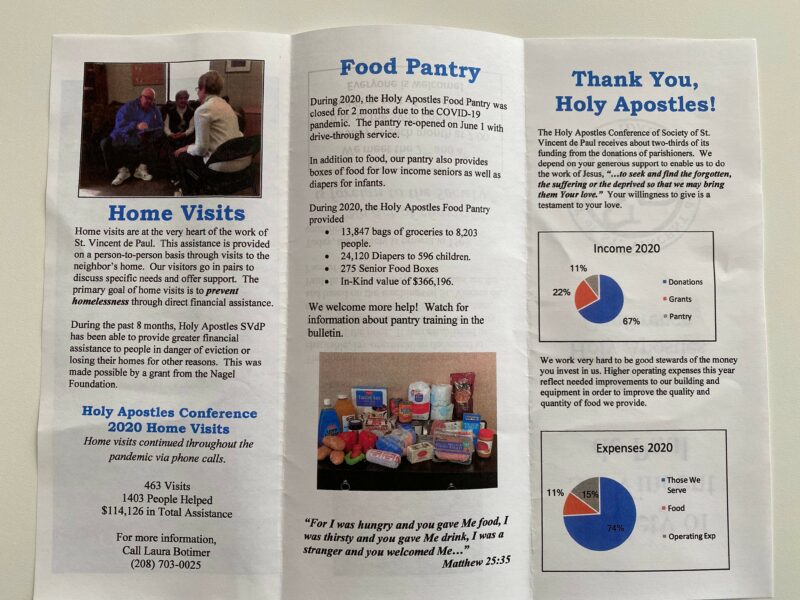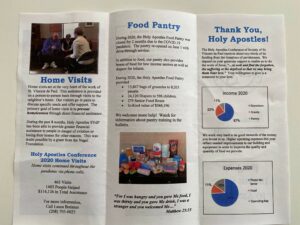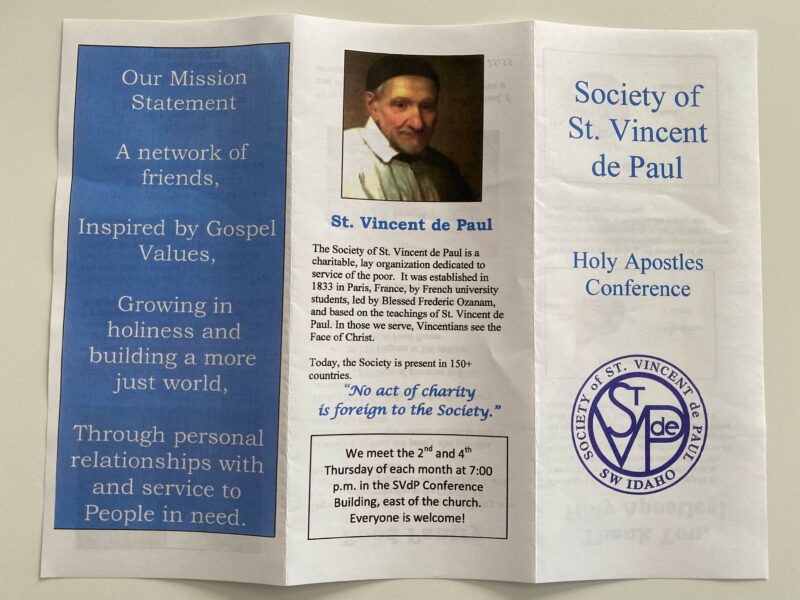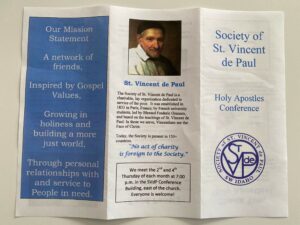 Impact Statements
St Anthony Impact Flyer 2019 Template
St-Paul-Impact-Flyer-2022-Template II
Example of parish ad for food pantry donations
Seattle Database
Seattle System Presentation – 12_3_2022
ConfDB Users 101 Presentation (2021-06-12)
Treasurer 101 Training Webinar
For Administrators Your New Conference
Reasons to use Seattle database
Explanation of In Kind Services
Bylaws
Bylaws – Holy Rosary with all edits Sept 2019
HOW TO UPDATE CONFERENCE BY-LAWS
Bylaws – Document 1 Conferences without a Board – Apr 27, 2019 FN
Bylaws – Template for all conferences – Sept 2019
Store Vouchers and Application for a Donated Car
Zoom Voucher Writing Training Jan 2023
Vouchers – Completed Sample 05-01-19
Conference Store Price Guidelines 10-22
Auto Assistance Program Referral Form
Misc
President Ralph Middlecamp's Comments on Conference Standards of Excellence
Link to Conference Standards of Excellence
Minimum Requirements for Conferences
Fundamental Principles of the conference
Checklist for Traditional Requirements
Commitment and Commissioning Ceremonies-2019
SVdP Standard Conference Meeting Agenda
Conference Growth & Revitalization Webinar
BRICKS – Phoenix Handbook for conferences
8 – delegating conference responsibilities
VINCENTIAN CELEBRATIONS-Rituals and Ceremonies
SVdP ofCCC Conferences-Effective Fundraising & Communications 1-27-17
HIPAA Training for Conferences 050115
Conference Officer Matrix of Responsibilities
St. Vincent de Paul CCC Summary of Services and Contacts ENG 06-21
St. Vincent de Paul CCC Resumen de Servicios y Contactos SPA 06-21